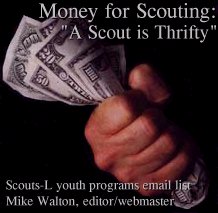 School Me! How Can I Go To School Via the BSA?
Within this page are discussions dealing with:
---
(This information has been updated. Since 1999, some of the sources for various Eagle Scout scholarship programs have changed. Additionally, linked is the Adams Family National Eagle Scout Service Project of the Year Award , which includes a $2500 cash award for the Eagle Scout and another $2500 for the winning Eagle's local Council.)

Andrew is about to finish his Eagle (a few months before turning 18) and several people in the local area have mentioned something about an Eagle Scout Scholarship. Always very vague, something you need to talk with "them" about, no details, etc. Now, I've been reading this group for years and I have not heard anything here about Eagle Scout Scholarships. I have the strong feeling that this falls under the heading of "Urban Myth" and I would like to get the facts, if for no other reason than to assure my wife that there is, or is not, anything to it.

Mike Walton:
Eagletip: Scholarship Opportunities for Eagles

Hi folks!

Here's the information in following up to Don Newcomb's request. I hope that this helps others as well that are looking for ways to further motivate some of your Life Scouts toward Eagle.

This was taken from the Eagle Scout Service' information:

There are two types of nationally awarded Eagle Scout scholarships. One type is academic scholarships, which include a varying number of $3,000 scholarships awarded each year by the National Eagle Scout Association, and a varying number of Mabel and Lawrence S. Cooke Scholarships.

The Mabel and Lawrence S. Cooke Scholarships are awarded annually and include four $20,000 scholarships (payable at $5,000 per year) and one $48,000 scholarship (up to $12,000 payable for four years), plus a varying number of others.

Scholarship committees are formed each year in each of the four BSA regions (Northeast, Southern, Central, and Western) to recommend recipients of these scholarships, with the final determination made by the national NESA Scholarship Committee.

The other type of national Eagle Scout scholarship is the Hall/McElwain Merit Scholarship. Each BSA region reviews applications and awards a varying number of these $1,000 scholarships.

More than 5,000 NESA scholarship applications are received each year, and fewer than 100 are awarded, so the competition is stiff. Plans are being formulated to greatly increase the amount of funds available to award NESA Eagle Scout scholarships through future years.

NESA academic scholarship applicants must be Eagle Scouts graduating high school and entering college in the year for which they apply for a scholarship. Scholarships are awarded only to those who graduate from high school in the calendar year in which scholarships are presented. Exception: Scouts whose Eagle Scout boards of review are held the same year of their high school graduation may apply in that calendar year. They may receive a scholarship one time only.

NESA merit scholarship applicants must be Eagle Scouts graduating high school or undergraduate college students no farther than completion of the junior year. Recipients may receive the scholarship one time only.

To obtain applications for the awards, candidates should contact their local Council Service Center and request form 58-702 or contact the National Eagle Scout Service S220, National Office, Boy Scouts of America, 1325 West Walnut Hill Lane, Post Office Box 152079, Irving, Texas USA 75015-2079."

The Eagle Scout Service also accepts tax-deductible contributions to the BSA's Eagle Scout Scholarship Fund by parents or others to honor Eagles, youth or adult, or in memory of a fallen Eagle (as hundreds of Internet Scouters did collectively back in 1994, when an Eagle Scout from Florida, Sean Harrington, died of cancer).

Contributions may be sent directly to the Eagle Scout Service office listed above. Note the check or money order "In (tribute to) (memory of) Eagle Scout (name)".

In addition, the following scholarships are also offered:
The National Eagle Scout Scholarships are administered separately by the Eagle Scout Service through a grant from the Elks National Foundation and are available annually. The grants are $4000, $1000 awarded yearly for four years. Scholarships of $3000 non-renewable are also available. The same submission and deadline for application as the Cooke Scholarships apply here.

The National Society of the Sons of the American Revolution also offer $8K, $4K, and $2K scholarships annually. This scholarship program is open to all Eagle Scouts who are currently registered in Scouting and have not reached their 19th birthday. Three national-level scholarships are awarded: $8,000 (first place), $4,000 (first runner-up), and $2,000 (second runner-up); prizes may also be awarded at the state and local levels. The competition is typically entered at the chapter level, although it may be entered at the state level in some cases.

Applicant must submit a 500-word patriotic essay and a four-generation ancestor chart; qualification for membership in the Sons of the American Revolution is not required. More information can be obtained from this webpage.

The American Legion sponsors the Scout of the Year program. The Legion awards a $10,000 scholarship to its Eagle Scout of the Year and three second-place scholarships of $2,500 each; awards may also be given at the department (state) level. Applicant must have received the Eagle Scout Award and the religious emblem awarded by his religious institution and must have demonstrated practical citizenship in church, school, Scouting, and the community.

Applicant must be the son or grandson of an American Legion or American Legion Auxiliary member, or he must be a member of a Scouting unit chartered to a Legion post, an Auxiliary unit, or a Sons of the American Legion squadron. Deadline is 1 March of each year. More information can be obtained from this webpage.

The Veterans of Foreign Wars (VFW) This scholarship program is open to registered, active members of Boy Scout Troops and Teams, Venturing crews, and Sea Scout ships. Applicant must have received the Eagle Scout Award, the Venturing Silver Award, or the Sea Scout Quartermaster Award and must have demonstrated practical citizenship in school, Scouting, and the community. One $5K award is made each year.

Application must be submitted through a single, local VFW post. More information can be obtained from this webpage.

The BSA's Order of the Arrow offers one or more scholarships ranging up to $2K and awarded to Arrowmen planning a career in the professional service of the BSA . Applications can be obtained from the Order of the Arrow National Office, at the BSA's National Office listed above. The deadline for submission is Janurary 15, with grants announced in June or July.

The Carter Scholarships are for Eagle Scouts living in one of the New England States (Maine, New Hampshire, Vermont, Rhode Island, Massachusetts, Connecticut) and are also $4K ($1000 for four years) for undergraduate education. Applications are available from Administrative Secretary, Post Office Box 527, West Cheatham, MA 02669.

Several Colleges or Universities offer their own Eagle Scout Scholarship. For more information, contact the financial aid offices of the following universities or schools:
(If the college or university you are planning or considering to attend is not listed above, CONTACT THEM and ask if they offer a scholarship or grant program for Eagle Scouts, Silver Award, Quartermaster Award or present Scouts or Venturers with potential of getting ahead and doing well in college!)
Don,
In addition to the Eagle Scholarships already mentioned in previous postings there are Eagle Scholarships sponsored by the:
National Jewish Committe on Scouting,
The Eastern Orthodox Committe on Scouting, and
several local scholarship sponsored by private businesses; e.g. Vitro Corporation has one for Scouts in the National Capital Area Council
---
Learning for Life/Exploring (an entirely different program than the BSA) offers the following scholarship opportunities previously only available to BSA Exploring members. To find out about these opportunities, Learning for Life participants need to contact their Unit-Serving Executive or Learning for Life/Exploring:
The Kemper Foundation Scholarships are offered to Learning for Life/Exploring and to Venturing members pursuring a career in finance or insurance. As part of the scholarship, receipients agree to serve as interns within a member of the Kemper family of companies. More information can be obtained from their website, through BSA local Council offices, or from Learning for Life.

The Law Enforcement Assistance Award is a $1K scholarship is presented by the Secret Service to an Explorer that have performed an outstanding deed in the area of law enforcement

The J. Edgar Hoover Foundation offers four $1K scholarships to Law Enforcement Explorers (one per Region) to support their education toward law enforcement work.

The United States Customs Service offers unlisted amounts of money to Law Enforcement Explorers whose acheivements reflect the high degree of motivation, commitment, and community concern that epitomize the law enforcement profession.

The Bureau of Alcohol, Tobacco and Firearms Special Agents Association presented unlisted amounts of money to Law Enforcement Explorers for achievements related to the law enforcement profession.

The Sheryl A. Horak Law Enforcement Explorer Memorial Scholarships are $1000 grants presented to outstanding law enforcement Explorers seeking a career in law enforcement. Contributions to this memorial fund may be sent to the National Director, Learning for Life at their national address: 1325 West Walnut Hill Lane, P.O. Box 152079, Irving, Texas 75015-2079. (yes, for the time being, Learning for Life is working from the BSA's National offices)
---
There are some other resources that I urge you to follow-up with:
your employer. Most larger corporations (and some smaller companies as well) offer either grants, loans, or a combination of both to outstanding sons and daughters of their employees (or to their employees)
community-based agencies like the United Way. In most larger communities, the United Way/Appeal/Community Chest offices have a listing of organizations that want to make a specific contribution to the community but chooses not to donate directly to the UW's pool.
churches and religious groups. Most of our larger religious organizations have organizations or mechanisms in which small grants or large loans (or work-study grants) are given to deserving Scouts and Venturers/Sea Scouts.
the federal government. Yes, our government still offers (it's getting smaller each year, but they do provide) the Pell Grant, other state and federal grants and several loan programs. Also consider voluntary service through AmeriCorps (as long as they are still being funded), which allows you to work in a community in exchange for a tution stipend or repayment on student loans or both.

There's also a program called JTPA (it used to be called CETA; that's the agency through I worked for the BSA through) that have a small pool of funding to support for instance, local Councils hiring one or two volunteers to work in rural or intercity areas of their council. You get a small (it *is* small) paycheck, supplemented by the hiring agency; most importantly, you get valuable experience which transfers over to WORK. Check with your local Council.
Finally, don't forget that you and your parents can sock away funds toward a "529" college funding plan. Here's information on what a 529 plan and some additional resources.
(with the EagleTips™ going electronic and being updated, this page will eventually be linked to the EagleTip™ page on "What good is Eagle?". Thanks to everyone who contributed content in the past and in the future toward making this more user-friendly.)
---
From: Jim Miller Jr.

Although I'm not really up on the scolarships, any Eagle attending college should speak to their counsellor about credits for earning Eagle. Friends have gotten anywhere from one to three college credits for being an Eagle Scout. Along with these, bring First Aid/CPR certifications. Many colleges offer these courses as health credits and are willing to give credit when a valid certificate is presented
---
© 1999-2010 Settummanque!
Designed by Mike Walton