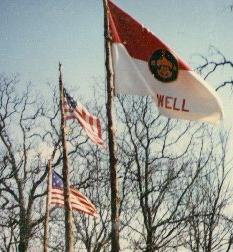 <!-Used only to point to truly NEW stuff: img src="graphics/new.gif" align=left WIDTH="40" HEIGHT="60" vspace=15 border=0>
The topical index has been updated and is now available either as a column on the left side of the topics page, or as a separate page, complete with a "last updated" line at the top.

If there are topics you are interested in, but do not see as part of the topic listing, please let me know. It's possible I've got it somewhere around here, and haven't uploaded it yet to the server!


Training/Teaching Online Resources
This page will link to areas which can be used to support teaching/coaching of volunteer leaders and others. These areas include Commissioner support to volunteers, training support, and just "neat stuff" that would liven up any kind of volunteer training program.
The MacScouter:
Gary Hendra (and his wife Kyna) has put together one of the oldest, if not the oldest, Scouting reference site on the World Wide Web. It gets its name because the files and website was created using Gary's favorite platform, the (Apple) Macintoish. The site has received loads of national and international awards for its format, content and especially design. It is easy to navigate and easy to use. Check out the fonts and clipart...it is a lot easier to use the Hendra's site than it is to use many of the other places where Scouting clipart can be found. Also, check out the reflection and personal commentary areas of their site. New Webmasters wanting to see "how can it be done effectively" need to stop here first, spend an afternoon looking at the MacScouter's site, and take lots of notes!
---
The NetCommish:
Mike Bowman is well-known in the Internet community as "Professor Beaver" and as the "Net Commish" (Commissioner). His great site and pages makes for interesting reading and implementation. A longtime Scouter from the National Capitol Area Council (Washington, DC), Mike brings a bit of formality (he's a lawyer) as well as a lot of common-sense approaches to serving as a volunteer commissioner as well as a supervisory Commissioner. His site is well-developed and offers a lot of resources. Need help serving as a new Commissioner?? This should be your FIRST stop!
---
James' Scout Site:
James Fleming is a volunteer Scouter and has spent a lot of time developing his site. A lot of the information can be found here on Leaders' Online (tm) and other locations, but he bundles it together into a easy-to-find while sparce resource. He has NO CLIPART on his site; he explains that Scouting clipart is plentiful and available elsewhere. But what he does have is a lot of text information dealing with common Scouting topics and subjects.
---
As you can see here, there's not much here, but come back often as this page matured with more information on how to make your training program the best!
---
Leaders' Onlinetm is a service of Rose Walton Personal Computer Coaches· 15201 Greenhaven Drive S129, Burnsville, MN 55306-7130 · 612.435.3124 Copyright © 1994-1998
"Leaders' Online", "American War Library", and the Leaders' Online and American War Library's AWL logo are trademarks held by Rose Walton PC Coaches. "Use What You Have...Right Now!" and "No fancy slogans...just GREAT WORK!" are service marks of Rose Walton. All Rights Reserved. Material used within the pages of Leaders' Onlinetm originiated within several public electronic communications forums and permission to use that material has been sought in good faith. If copying or electronically transferring information for usage elsewhere, please honor this site's right to publish as well as the author's rights to display and publish by NOT "editing" nor "cutting" the electronic mail address of the original author or the Leaders' Onlinetm site indicia. Scouters' Journaltm has the right to republish any and all information contained on this site, as long as credit and/or link is given to the original author and to Leaders' Onlinetm.
Developed by Settummanque! (Mike Walton)
and Created with DiDa!